GRASS – Setari Location wizard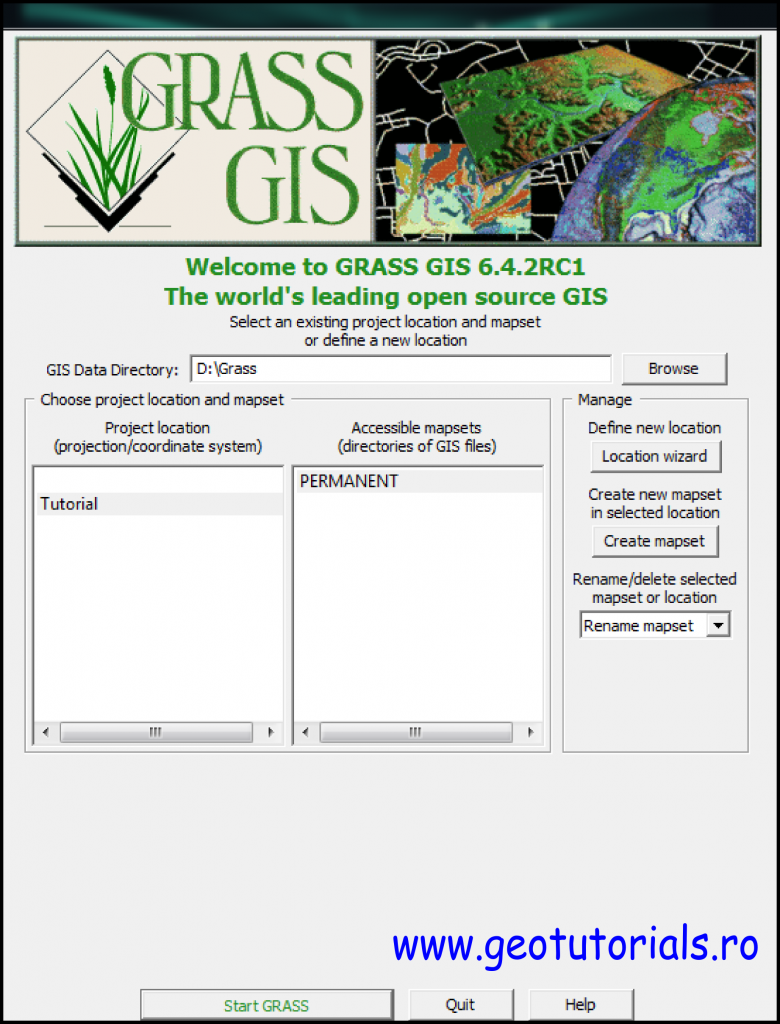 Pentru a lucra in GRASS trebuie stabilite anumite conditii cu privire la proiectul ce il realizati, cum ar fi proiectia, regiunea zonei, parametri proiectiei, datumul etc.
Primul pas consta in executarea aplicatiei GRASS GIS 6.4.2RC1 (wxpython), dupa ce am pornit GRASS incepe stabilirea zonei de lucru.  Selectam Location wizard pentru definire unei noi zone, unde introducem locatia pentru salvarea datelor (GIS Data Directory), denumirea proiectului (Project Location) si denumirea zonei (Location Title).
Dupa ce am dat denumirile si apasam butonul Next trebuie sa alegem din fereastra noua ce apare Select coordinate system parametres from a list si Next. Mai departe apare fereastra in care definim proiectia, cautam la Search in description proiectia Universal Transverse Mercator (UTM), apasam butonul Enter al tastaturi pentru a afisa rezultatul cautari, selectam proiectia (trebuie sa apara denumirea la Projection code) si apasam Next.
Dupa setarea proiectiei stabilim parametri acesteia, selectam Datum with associated elipsoid, Projection zone – introducem 35, iar la South Hemisphere selectam No, pentru ca zona noastra de lucru este Romania si nu se afla in emisfera sudica, apoi Next. Urmatoarea fereastra este cea pentru stabilirea datumului, scriem WGS84 la Search in description, apasam butonul Enter al tastaturii, selectam datumul, la Datum code trebuie sa apara WGS84 apoi Next.
Acum sunt afisate datele zonei de lucru, trebuie doar sa apasam butonul Next, la intrebarea ce apare apasam Yes, stabilim marginile si propietatile zonei (pot ramane nemodificate) si apasam butonul Set region. In fereastra Welcome to GRASS GIS (fereastra ce a aparut cand am deschis programul) selectam proiectul ce tocmai l-am creat si apasam Start GRAS, acum putem incepe modelarea datelor.
Datele introduse sunt pentru Romania, daca aveti o alta zona nu trebuie decat sa introduceti datele corespunzatoare acelui areal.